Are Your Valuables Protected?
Protect your valuables from loss or damage with a specially designed tenant insurance program. Our third-party storage insurance provider gives our self storage tenants access to an easy storage contents insurance solution with great coverage and affordable prices. $0 deductible policies start as low as $9/month.
Some of What the Program Covers: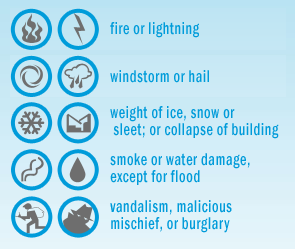 (This is only a partial list of coverages)
Tenant Insurance Program Features
Options: From various coverage amounts to a wide variety of covered perils, to an affordable selection of monthly premiums, you will have access to the right policy to fit your needs.
Transit Coverage: The policy provides coverage for your valuables while they are in transit, in addition to while they are in your storage unit.
Waived Deductible: The deductible is waived if you secure your storage unit with a disk lock.
Easy Claims Service: We provide access to professional customer claims service representatives to make the claims process easier for you.
This Policy Pays First: Your claim will be paid even if your homeowners policy provides coverage.
Check Your Policy
Your current renters or homeowners policy may provide coverage for your valuables in storage. Consult your agent to determine coverage, exclusions, deductible amount, and limits. Even if you have coverage through another policy, our insurance partner may provide access to a more specialized coverage that includes additional coverage, easier claims, and no deductible when you secure your storage unit with a disc lock.